WARDWELL
MANUFACTURING COMPANY
St. Louis, Missouri 
1874 Wardwell Sewing Machine Company of St. Louis, Missouri
1876 Wardwell Manufacturing Company of St. Louis, Missouri
1887 Wardwell Sewing Machine Company of New York, N.Y.
1870s-1886
Woonsocket R.I.
Historical note:
The Taft-Peirce Manufacturing Company prospered for over a hundred years as a completely integrated engineering, tooling and manufacturing institution in Woonsocket, Rhode Island.
It was founded in 1875 as the Hautin Sewing Machine Company and became the Wardwell Sewing Machine Company in 1886 under the ownership of Samuel W. Wardwell.
(He learned the trade of a carpenter and in 1876 came back to the place of his nativity and engaged with the Hautin Sewing Machine Co. Here he obtained his first experience in the machine business.)  
In 1886 The Wardwell Sewing Machine Company was incorporated.
Wardwell continued the business of manufacturing industrial sewing machines and with the supervision of his plant foreman Edwin J. Peirce expanded into the area of contract manufacturing of machines.
In partnership with Daniel W. Taft, Peirce bought the assets of the company in 1895, at which time the present corporate name was adopted.
In its early years, Taft-Peirce manufactured sewing machines, typewriters and the elements of a punched card cost system.
In 1903, the company went into receivership and was taken over by a syndicate in 1905.
The syndicate, led by appointed receiver Frederick Steele Blackall, has retained ownership of the firm through recent times. As late as 1982, F. Steele Blackall III was the company's president.
Notes on the Wardwell
ISMACS News
Issue 26
Every now and again a researcher comes across a machine previously unknown or of little-known reputation and one wonders why such a model failed to make it in the commercial world.
One such machine was the Wardwell made by the Wardwell Manufacturing Company of St Louis, Missouri. The company started business in the late 1870s and was certainly out of business around a decade later. Yet the machine seemed to have a lot going for it.
It was a lockstitch machine with the very real advantage of having no shuttle and no bobbin. Instead it carried another regular-sized spool beneath the needle in a specially-adapted carrier, giving the obvious advantage of the operator no longer having to stop work to wind the bobbin and, of course, allowing a change of thread colour again without having to provide another bobbin of the new tint.
Obviously a lot of thought had gone into the design of the Wardwell and those who took part in the Weir competition at last year's AGM in which they were asked to guess the number of components in that machine, will be surprised to hear that the lockstitch Wardwell was constructed with but 40 pieces, whereas the Weir required over twice that many for a simple chain-stitch operation. Another first for Wardwell was the ingenious flywheel which could be swiveled to any position allowing the head to be used in line with the table or at 90 degrees as the Florence.
Prices ranged from $65 for the basic treadle machine which had a black walnut table to $130 for a full-cabinet model.
If all the claims made for the Wardwell were true, it's surprising that the machine did not succeed. In the company's advertising brochure there were listed 30 reasons why a customer should choose the Wardwell above all others. The 30th of these says that: "we believe it will supersede all shuttle machines".  What happened in a few years is that the company went into bankruptcy and no surviving example has been, as yet, discovered.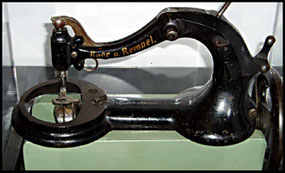 Baer & Rempel Two-Spool (Wardwell)
This Wardwell machine has Baer & Rempel along the arm. It was apparently brought to Germany in order to study the unusual two spool arrangement; a lockstitch machine using two ordinary spools of thread. (Bielefelder Company History.)
Simon W. Wardwell Jr., took out several patents relating to his Two Spool machine from 1872, through to improvements in 1888.
As well as his earlier working days in St. Louis, Missouri with George Shaw, Wardwell's work included patents on behalf of the Hautin Sewing Machine Company in Rhode Island, where his Wardwell Sewing Machine Company became based. He was later connected with Boston, MA.
His patent of 1871 allowed any make of machine to be revolved within its treadle top.
In 1877 he also patented what we would now call a 'flat packed' treadle, "the pieces constituting the stand are so formed as to lie compactly in a case without liability to breakage, and this enables the shipping at lowest rates. The construction is such as to enable the stand to be taken apart or put together without the use of skilled labor. The pieces are so formed as to be cheaply produced by casting, and require little or no finishing." It was perhaps with this in mind that he also invented a collapsible boat.
Wardwell also worked on Wax Thread sewing machines, producing the Wardwell Wax Thread machine and inventions to do with the manufacture of shoes, as well as cop winding machines, wrenches, bicycle parts and so on.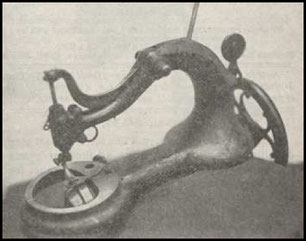 WHERE DID YOU SEE THIS MACHINE?
The machine of which you publish an illustration on page 7 in your issue of June 25, 1910, is the Wardwell machine. This machine was exhibited at the Centennial Exhibition, in Philadelphia, in 1876. I visited the exhibition and bought a sample of the machine, which is still in my possession. The machine proved a failure on account of its complicated construction and on account of the immense amount of loose thread that was necessary to pass an ordinary spool of thread through the loop of the upper thread. The inventor was Mr. Wardwell. Later on the machine was improved by Mr. S. W. Wardwell, jr., to whom the patent US 357.251 and US 391.666 were granted. The first patent refers to a rotary take-up and the other to a revolving hook with a stationary case, holding an ordinary spool. But in spite of these improvements, the Wardwell machine has disappeared like so many others of the same kind.
HUGO REMPEL
Bielefeld, Germany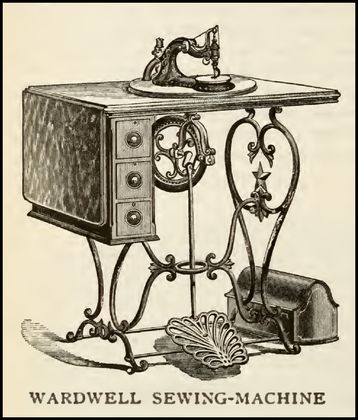 Taft Machine Co.
Manufacturers of combination overseaming and straight stitch carpet sewing machines, for hand or electric power. Business established by J. C. Taft in 1876. Incorporated under the present name in 1900. Officers, Jerome C. Taft, President; Henry G. Thresher, Treasurer; Herbert M. Fillebrown; Secretary. Machines sold extensively throughout the United States and Canada. Jerome C. Taft was born in Canterbury, Conn., Sept. 19, 1847. Learned the trade of a machinist. Opened a machine shop in Providence in 1872; after a few years invented the carpet sewing machine that is said to be the best machine of its kind and began their manufacture under the patents that he had secured. Works now (1901) located at 40 Friendship Street, Providence.
The Taft-Peirce Manufacturing Co.
Manufacturers of machines and mechanical specialties. The works, which are among the largest in Rhode Island, are located in Woonsocket. Daniel W. Taft, Treasurer; E. J. Peirce, Jr., Agent and Superintendent. They have their own electric lighting plant and everything about the factory is modern and up-to-date in every respect, the power being furnished by steam. The Taft-Peirce Manufacturing Co. are one of the best known machinery builders in America. The shops, as shown herewith, are large and commodious, three stories high, of brick construction and they are very strongly built so as to contain heavy machinery without causing too much vibration. There may be said to be two main buildings, with connections, besides a boiler and engine room in a separate building and storehouses. The entire plant is fitted throughout with the most modern machinery of every description that is required in a first-class machine shop. The company do  
Hurtu
US 258.761    1882
USRE 10.125         1882
Hautin Sewing Machine Company
*********************************************************
US 218.464                   Simon Willard Wardwell Jr.
Wax Thread Sewing Machine
The main object of my invention is to sew leather and other materials with two waxed threads that is, with threads thoroughly saturated with shoe-maker's wax, locking said threads at some point between the faces of the material and this I effect by means of a machine embodying new and improved mechanisms and devices, which will be hereinafter fully described.
Assignor to Hautin Sewing Machine Company
August 12, 1879
*********************************************************
US 220. 197                  Simon Willard Wardwell Jr.
Sewing Machine
The object of my invention is to facilitate the manufacture of reins and other round articles of leather and my invention consists in the combination, in a sewing  machine, of knives and a gage, one knife being attached to the presser-foot and the other and the gage being adjustable on the bed-plate, as hereinafter described. 
Assignor to Hautin Sewing Machine Company
September 30, 1879
*********************************************************
US 220. 198                  Simon Willard Wardwell Jr.
Shaft-Bearing
The object of my invention is an adjustable bearing for shafts, constructed as fully described hereinafter, whereby an exact longitudinal adjustment of the shaft may be secured and an anti-friction bearing against end-thrust' is afforded.
Assignor to Hautin Sewing Machine Company
September 30, 1879
*********************************************************
USRE 10.125       1882
Greenman and True sewing machine. This lockstitch machine based on S. H. Roper's patent of 1857 was manufactured at Norwich, Connecticut, from 1859 to 1861 by Cyrus B. True, the inventor, and Jared F. Greenman, True's financial partner. Licensed by the "Combination" and carrying the Howe patent date, the machine had obvious merit: it was strong, well made—a good family machine. Exhibited at the Ninth Exhibition of the Massachusetts Charitable Mechanics Association in September 1860, it received a bronze medal. (At this time the company was listed as Morse and True—the inventor had obviously taken on a second financial backer.) Unfortunately, the best market for the machine lay in the South, and the outbreak of the Civil War made collections impossible. This greatly retarded business and finally drove the firm into bankruptcy. In all, it is doubtful that more than one thousand machines were produced in the three years of manufacture.
The machine illustrated is marked "Greenman and True" and bears the serial number 402; it was probably manufactured early in 1860