ABRAHAM BARTHOLF
SEWING MACHINE COMPANY
Manufactory:  New York
Offices:  33 Gold Street  &  434 Broadway, New York
While new ideas and inventors continued to provide the answers to some of the sewing machine problems, Elias Howe began a series of patent suits to sustain the rights that he felt were his. Since his interest had never been in constructing machines for sale, it was absolutely essential for Howe to protect his royalty rights in order to realize any return from his patent.
He was reported[38] to have supervised the construction of 14 sewing machines at a shop[39] on Gold Street in New York toward the close of 1850.
Sworn contemporary testimony indicates that the machines were of no practical use.[40] Elias stated, in his application for his patent extension,[41] that he made only one machine in 1850-51. In 1852 he advertised[42] territorial rights and machines, but apparently did not realize any financial success until he sold a half interest in his patent to George Bliss in November 1852.[43] Bliss later began manufacturing machines that he initially sold as "Howe's Patent"; however, these machines were substantially different from the basic Howe machine.
On May 18, 1853, Elias Howe granted his first royalty license to Wheeler, Wilson & Company. Within a few months licenses were also granted to Grover & Baker, A. Bartholf; Nichols & Bliss, J. A. Lerow; Woolridge, Keene & Moore and A. B. Howe, the brother of Elias. These licenses granted the manufacturer the right to use any part of the Howe patent, but it did not mean that the machines were Elias Howe machines. When a royalty license was paid, the patent date and sometimes the name was stamped onto the machine. For this reason, these machines are sometimes mistakenly thought to be Elias Howe machines. They are not.
footnotes:
[34]In the Matter of the Application of Elias Howe, Jr. for an Extension of His Sewing Machine Patent Dated September 10, 1846, New York, 1860, with attachments A and B, U.S. Patent Office. [L.C. call no. TJ 1512.H6265]
[38]James Parton, History of the Sewing Machine, p. 12, (originally published in the Atlantic Monthly, May 1867), later reprinted by the Howe Machine Company as a separate.
[39]Sewing Machine Times (Feb. 25, 1907), vol. 17, no. 382, p. 1, "His [Bonata's] shop was on Gold Street, New York, near the Bartholf shop, where Howe was building some of his early machines."
[40]Sewing Machine News, vol. 3, no. 5, p. 5, Sept. 1881-Jan. 1882. "History of the Sewing Machine."
[41]Op. cit. (footnote 34).
[42]New York Daily Tribune, Jan. 15, 1852, p. 2.
[43]See Howe's biographical sketch, p. 141.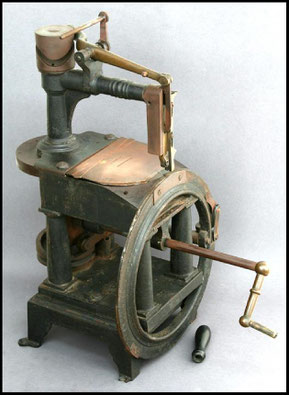 Bartholf, serial #10, made in 1850.  This is one of the earliest known manufactured sewing machines.
Blodgett & Lerow sewing machine, 1850, as manufactured by A. Bartholf, New York; the serial number of the machine is #19. At right, an original brass plate from the same type of machine with needle arm and presser foot and arm, serial number #119.
AMERICAN PATENTS 
*********************************************************
US 19.823                           Abraham  Bartholf
Sewing Machine
This invention relates only to sewing machines in which a shuttle is used. Its object is to reduce the friction of the shuttle in the raceway without the use of oil and thereby to avoid the dirtying of the shuttle-thread, which or light-colored work when oil is used in the raceway. The invention consists in a certain construction of the shuttle and driver which tends to prevent the shuttle hugging the raceway in its is a source of great trouble in sewing delicate retreat, which, it should be observed, is the part of its movement in which, under the most common construction of the shuttle and driver, it is caused to hug the raceway most closely.
April 6, 1858
*********************************************************
US 23.651                           Abraham  Bartholf
Device for Converting Alternate Circular or Oscillating Motion into Direct Circular Motion
My invention consists in a certain novel, simple and effective mode of applying and arranging a dog and lever and a spring in combination with a wheel or other body to which the direct motion is to be imparted, whereby as the lever is moved in one direction the dog is caused to bite upon the surface of and move the wheel or body to which it is applied and as it is moved in the other direction the dog is caused to slip over the said surface. 
April 19, 1859
*********************************************************
US 24.000                            Abraham  Bartholf
Sewing Machine
My invention consists in a novel and very effective mode of applying and governing the operation of a thread-controlling lever, by which the needle-thread is drawn back through the cloth to draw up the loop to complete the stitch, and held back to prevent its getting slack during the first portion of the descent of the needle and before the point of the latter enters the cloth. It also consists in a certain novel arrangement of an adjustable eye, in combination with the thread-controlling lever, for the purpose of adapting the operation of the thread-control ling lever to sewing different thicknesses of material with the same degree of tension on the needle-thread, and with the same tightness of Stitch.
May 17, 1859
*********************************************************
US 61.463                             John  Robertson
Extracting Oil from Seeds and other substances
Assignor to himself and Abraham  Bartholf
January 22, 1867
*********************************************************
US 108.432                         Abraham  Bartholf
Apparatus for Carbureting Air and Gases
October 18, 1870
*********************************************************
US 448.249                         Abraham  Bartholf
Treatment of Rhubarb-Root
December 28, 1890
*********************************************************

1857-58
Bartholf Abraham, machinist 33 Gold Street, New York
home: New Jersey
1859-60
Bartholf Manufactury Co. 33 Gold Street & 434 Broadway, New York
home: Brooklyn
1860 
It would appear that Mr. Couch is not a practical machinist, but (as he says in his testimony) mechanical movements have been the chief study of his life and he has on different occasions been called upon as an expert witness in patent cases. He became acquainted with Mr. Bartholf in 1852 or 1853, when he (Bartholf,) built rock drilling machines, for which Mr. Couch had obtained a patent. From this time they appear to have had sundry business transactions together and to have been on intimate terms until the misunderstanding about this invention took place.
In 1857 Mr. Couch was placed in charge of the wholesale tailoring establishment of D. J. Levy, who had failed and made an assignment, the assignees employing Mr. Couch to take charge of the property. Mr. Couch directed Mr. Levy's attention to the business of selling sewing machines and introduced Mr. Bartholf to him as a party who was making such machines and wanted some one to sell them.
Mr. Levy induced his brother, J. J. Levy, to enter into an agreement with Bartholf, by which he (Bartholf,) was to make the machines, Levy to pay cash for and to have the exclusive right of, selling them, the brother, D. J. Levy, being engaged as general superintendent of the establishment.
There was no partnership arrangement between Bartholf and J. J. Levy, as by the terms of the agreement, Bartholf was absolved from all losses incurred by Levy in prosecuting the business of selling the machines and as Levy had to pay cash for those machines on delivery.
In this agreement it was stipulated that Mr. Couch was to be employed in Levy's establishment, hence the agreement between Couch and Levy, marked Swan's Exhibit 1, which sets forth that Couch shall be the confidential clerk and principal assistant in the business of introducing and selling the sewing machines at a salary of $20 per week and a commission of $5 on every machine sold. This agreement is dated January 11, 1858 and it appears from the evidence of Mr. J. J. Levy, that Couch entered upon his duties at Levy's Office, 489 Broadway, in February of that year.  
full story
1862-72
Bartholf A., Iron Works and Sewing Machine Mfg., 33 Gold Street, N.Y.
home: 12 Second pL Brooklyn  
Sources:
The Encyclopedia of Early American Sewing Machines