from       C. BAER und KOCH
1860-1865 
H. KOCH & Co.
1865-1913
Koch's Adler Nähmaschinenwerke AG
1913-1971
                Koch Adler AG                                           
1971-1990
     to    "DÜRKOPP ADLER AG
                                 1990 - nowadays
In 1860  Carl Baer and Heinrich Koch start the first sewing machine factory in Bielefeld under the name of  C. Baer und Koch.
Carl Baer and Heinrich Koch both had worked at the Nähmaschinenfabrik of Carl Beermann in Berlin. A main buyers of Beermann's sewing machines was a Bielefeld linen factory. From this combination resulted Baer's decision to found with Koch in Bielefeld a sewing machine factory.
They built, as the company Beermann, sewing machines after the construction of Wheeler & Wilson, usually special machines and industrial. Even after the departure of Carl Baer, to another sewing machine factory ( Phoenix Nähmaschinen AG Baer & Rempel) founded in Bielefeld in 1865, mainly special sewing machines were built in the sewing machine factory H. Koch & Co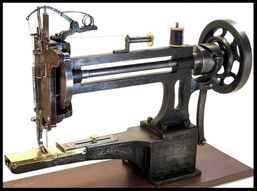 In 1865,  C. Baer und Koch reformed to become H. Koch & Co.
In 1865 Nikolaus Dürkopp left watchmaker Böckelmann to occur as a mechanic in the service of the company "Koch & Co." . During this time Nikolaus Dürkopp improved his knowledge in sewing machines. (N. Dürkopp in 1861 built his first sewing machine and founded in October 22, 1867, with Schmidt, the Dürkopp & Schmidt. Later Carl Schmitt became separated from the company and founded the Anker-Werke ).
In 1880 there were 19 sewing machine factories in Bielefeld.                                       At that time Dürkopp & Co. as well as Koch & Co. already counted among the largest enterprises in this industry. 
In 1885 Dürkopp begins the first mass production of bicycles in Germany.  (Soon followed by the Koch & Co. and others. In Bielefeld was created a new industrial district).
1890
From 1890, the company grew very successfully in the production of household sewing machines after the construction of Wheeler & Wilson. These sewing machines came under the name "Adler" in trade and sat down, because of their high quality and design, very fast among consumers through. The name "Adler" was soon well known and the company Koch & Co. has been identified with this name.
Development of first circular grinding sewing machine, which found worldwide recognition.
In 1895 the company reformed to become a joint stock company
In 1896 started the production of bicycle.
After conversion to an AG in 1895, the name "Adler" was in 1901, part of the new company name "Kochs Adler AG".
In 1902 started the production of rolling mill engine  for the shoe and leather trade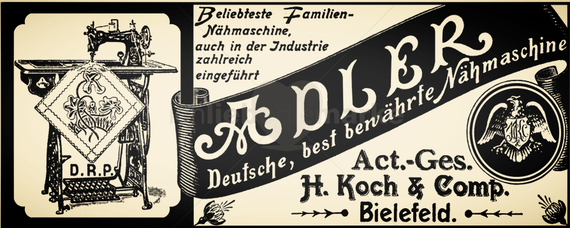 1913
Reformed to become Koch's Adler Nähmaschinenwerke AG
The Koch & Co. from 1920 produced sewing machines as Nähmaschinenwerke Kochs Adler AG and left the production of bicycles and concentrate on sewing machines.
Rolling mill engine production discontinued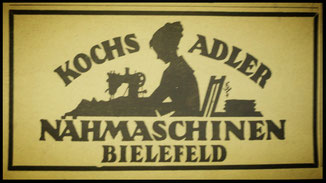 Koch's Adler periodically takes over production of Dürkopp household sewing machines
Re-start of sewing machine production
Construction of an additional factory in the centre of Bielefeld 
Production of typewriters started .
An original ABC portable typewriter and case, designed by Wilhelm Wagenfeld for Koch's Adler Nähmaschinenwerke AG, Bielefeld, Germany, 1955
1961
Production of packing machinery started
1966
Production of typewriters discontinued
1971
Reformed into Koch Adler AG. Household sewing machine production discontinued. Relocation of packing machine production of Certus Maschinenbau GmbH to Augsburg
1976
Sale of Certus
1977
Entire company relocated to new factory complex in Bielefeld-Oldentrup
1978
Distribution subsidiary formed in Tucker/USA (today: Adler America Inc.)
1986
Acquisition of qualified share majority by FAG Kugelfischer
1988
New construction of information and training centre
1990    
Implementation of the merger decided upon in 1987 to form the company DÜRKOPP ADLER AG