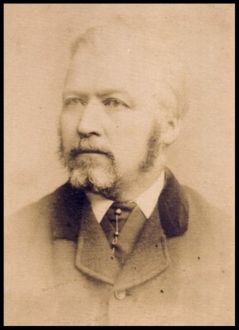 James Starley was born in 1830 at Albourne, Sussex, the son of Daniel Starley, a farmer. Baptised 13 June 1830 at Aldbourne. He began working on the farm at nine, showing early talent as an inventor by making a rat trap from an umbrella rib and the branch of a willow tree. He ran away from home as a teenager and went to Lewisham, in south London.
With the industrial revolution in full swing the quiet farm life was not for him and his head seems to have been bursting with mechanical ideas.
There he worked as an under-gardener, in his spare time mending watches and creating devices such as a mechanism to allow a duck to get through a hole in a fence, closing a door behind it if a rat tried to follow.
In 1851 James Starley was living as a lodger at Lewes Grove, Lewisham, in the house of Mary Mays.                    
On March 22nd, 1853, James Starley was married to Miss Jane Todd, at the Union Chapel, Lewisham. 
For some years Starley was employed as a gardener by John Penn (proprietor of a large machine works at Greenwichthe, a wealthy marine engineer ). Penn had purchased a then rare and expensive sewing machine for his wife, which soon broke down. James fixed the problem and, what is more, could see various improvements to the mechanism. Penn knew Josiah Turner, one of the partners of Newton, Wilson and Company, the makers of the machine and in due course Starley left Penn's employment and was taken on at the London factory.
On  September 1859, Starley started work for Newton, Wilson and Co.  of Holborn, London, sewing machine suppliers. While in their employ he made some alterations in a double chain-stitch machine, which were much appreciated. This led him to try his hand at improving these machines and he soon made himself complete master of their mechanism.
In 1861 James was living at Lewisham with his wife Jane (age 34) and their children James (age 7 ); John (age 5 ) and William (age 2 ).
On April 1861 Salisbury and Starley patented a sewing machine.
Patent GB 1.045  to Silas Covell Salisbury, of Essex street, Strand, in the city of Westminster, Gentleman and James Starley, of Lewisham, in the county of Kent, Mechanic, for the invention of "an improved combination sewing machine".                                                                               
April 25, 1861
Coventry was in an economic depression caused by the collapse of its main industry, ribbon weaving. A number of local businessmen set up a company to make sewing machines in a disused ribbon factory.  
Local interest in finding work for under-employed watchmakers and those from the ribbon trade led to the formation of the European Sewing Machine Co. .
In May 14, 1861, James Starley left Newton, Wilson and Company  and with Josiah Turner and Silas Covell Salisbury, an American, went to Coventry to embark in the sewing machine trade.
European Sewing Machine Co.
In October 1861 the European Sewing Machine Company was established by James Starley and Josiah Turner to import and market sewing machines from America .
The works were initially in Little Park Street, later  in King Street, Cheylesmore of Coventry , a larger factory , where the "European", "Godiva", "Express" and "Swiftsure" sewing machines were made.
They rented part of the premises of a Mr. John Newark, on the site later occupied by the Swift works.
They produced the "European" sewing machine, designed to stitch round the edges of cuffs or the bottoms of trouser legs after they were made up. This machine was made at home in the evenings. Josiah Turner took great interest in Starley's work and often visited him at home.
1862 September. Advert. European Sewing Machines Co. to S. C. Salisbury's patent from Wilson and Neville of Cheapside, London.
In October 1862 Bankrupt. 'Silas Covell Salisbury, sued and committed as Silas Cyrus Salisbury, of No. 125, Fleet-street, City, Agent for and Patentee of Sewing Machines, jointly with James Starley, and also having lodgings at No. 23, Newland street, Kensington, both in Middlesex, previously of King street, Coventry, in the county of Warwick, Agent and Patentee as aforesaid, previously of No. 32. Essex-street, Strand, Middlesex, Agent and Patentee as aforesaid, having been adjudged bankrupt under a Petition for adjudication of Bankruptcy.
European Sewing Machine Co. Limited
1862 November. Prospectus for shares totalling £10,000. The provisional committee were James Marriott, David Spencer, William Franklin, Arthur Atkins, Joseph Tomlinson, Thomas Clarke, John Sutton, James Maycock, E. H. Crutchlow, Joseph E. Banks, John Powers, George Bindley, Richard Bobbins and Thomas Slingsby, all of Coventry.
1863 June. Company registered as joint stock company for making and selling Salisbury and Starley's patent knot-stitch and other sewing machines at King Street, Coventry .
1863 Company was finding it difficult to expand and decided to diversify.
About 1865 Starley constructed a four-wheeled velocipede with suspension wheels.
Coventry Sewing Machine Co.
20 King Street, Coventry
On September 16, 1867 the European Sewing Machines Co. became the                          Coventry Sewing Machine Co..
1868 July. Mention of the Coventry Sewing Machine Co. in a minor court case
1868 Patent. 1678. To James Starley, of the Coventry Sewing Machine Co., Coventry, in the county of Warwick, for the invention of  improvements in sewing machinery.
1868 Their Paris agent, Rowley B. Turner (Turner's nephew), brought one of the new French "bone-shakers" to the factory and the company soon started making bicycles.
Starley immediately began to improve the French machine, first with a step to aid mounting, which led to the name of the Coventry machine. He reduced the size of the rear wheel and increased the height of the front wheel, producing the "ordinary".
In 1868 Starley became interested in bicycle improvement. His first bicycle, the Coventry, was quickly followed by the Ariel (1871), notable for its use of centre pivot steering. Considered the first true bicycle by many historians, the Ariel was the immediate precursor of the high-wheel ordinary and was the standard of bicycle design for the next decade.
Starley invented and manufactured the tangentially spoked wheel, with the spokes connected to the hub at a tangent. His design was a great improvement over radially spoked wheels and is still in use. In 1876 he introduced the highly successful Coventry tricycle and the following year incorporated into it the patented use of the differential gear in conjunction with chain drive.
      Coventry Machinists Co. Ltd
1869 February: the company had received an order for a large number of velocipedes, (an order for 400 velocipedes to be exported to France) the directors brought this to the attention of the general meeting since it was outside the articles of association.                                                               The company name was changed to Coventry Machinists Co. Ltd.
Josiah Turner and James Starley were managers here, William Hillman was a foreman and George Singer was also a foreman here.
The Franco-Prussian War forced the company to build up the home market instead. 
1869 July, the European Sewing Machine Co. Ltd was  in liquidation.
August, 1870, Starley patented his 'Ribbon' wheel. This was at first spoked with narrow brass ribbons, which afterwards gave way to flat steel, and then to wire spokes. Two spokes were made of each piece of wire, the ends being secured at the hub flanges and passed through an eye on the V rim; the wheel was tensioned by a cross-bar fixed to the hub spindle, from the ends of which short adjustable rods ran to the rim.
1870 Patent. GB 1.430. To James Starley, of the Coventry Machinists Co. Ltd, Coventry, in the county of Warwick, for the invention of "an improvement in sewing machines.
1870
Smith, Starley & Co.
1870 James Starley left the Coventry Machinists Co.  and, in conjunction with William Hillman, started on his own account in St. John's Street, Coventry to make sewing machines. He was joined in business by William Borthwick Smith as Smith, Starley and Co. at St. Agnes Lane, Hales Street (from where they later moved to Ariel Works, Spon Street).
1871 James Starley was living at 67 St. John's Street, Coventry , a Machinist employing 2 men and four boys. With his wife Jane and their children James, John, William , Elizabeth and Ellen (age 3).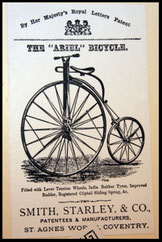 In December 1872 the partnership of Smith, Starley and Co.  with William Hillman was dissolved when Hillman left. Starley continued to make the "Europa" sewing machine and the "Ariel" bicycle.
1874, Starley patented the tangent wheel, i.e one with tangent spokes (patent No. 3959), where the spokes crossed each other as against what was the 'norm' at the time, the familiar radial method of assembling a wheel. Rival cycle makers were anti this invention and reluctant to adopt this new method of lacing the wheel, suggesting that it could not be possibly stronger than the radial spoke method, some were convinced that the cross spoke method would make the wheel rim buckle, thus causing accidents. Media at the time added to the controversy by publishing articles describing the different wheel building methods as the 'Battle of the Wheel'.
Starley declined to be drawn into the controversy and set about silencing his critics once and for all by designing and making a Giant Ordinary (Penny-Farthing), he did in fact make two identical machines. Today one is on display at the National Motor Museum, Beaulieu and the other went to the USA to be demonstrated at the Philadelphia Cycle Show. This machine has not survived.
Further variants on the bicycle and tricycle were developed including lever-driven cycle, and chain-driven tricycles were also devised for ladies and for two rider; the Ariel was followed by the "Tangent" bicycle.
1875 Trading as Smith, Starley & CO.
1876 Developed one of the early tricycles: the "Coventry Lever Tricycle", patent No. 4478/1876, as depicted on the Starley Memorial in Coventry.
1877 Starley invented the (open) differential for the tandem tricycle, later to be used in cars. This was incorporated in the "Salvo" tricycle.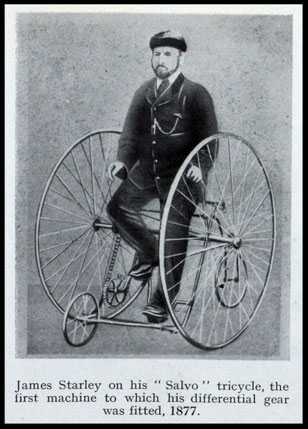 It was about Christmas, 1880, that the first symptoms of the disease which carried James Starley off appeared. He took to his bed at Easter, 1881, having discovered a lump on his right side, which, having been studying cancer in an encyclopaedia, he rightly diagnosed. He consulted Sir James Paget, who told him he might live three months. 
1881 Living at 18 Upper Well Street, Coventry (age 50), Tricycle maker employing 20 men and 5 boys. With his wife Jane (age 54 ) and their children James (age 27 ), a Clerk; John (age 25 ), a Machinist; Elizabeth (age 15 ) and Ellen (age 13).
James Starley  died on 17th June, 1881, sensible to the last, saying good-bye to his wife and family. British inventor and father of the bicycle industry.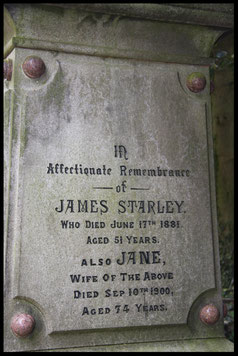 Starley's sons continued manufacturing cycles after his death but his nephew John Kemp Starley made more of a mark in the long run. It was John Kemp Starley and Sutton who devised the recognisably modern Rover safety bicycle with 26 inch wheels (still a standard size), chain drive, and a diamond shaped frame (no seat-tube as yet) in 1884, showing it in 1885.
The penny-farthing or ordinary cycle was not a safe machine, with a "header" accident being an ever-present danger. Others had experimented with chain-driven "safety cycles" but the Rover really made its mark to the extent that "Rover" means "bike" in some countries such as Poland.
In due course, motor-driven bicycles became motor-cycles and were followed by motor cars. John Kemp Starley experimented with an electric tricar around 1888 but the petrol-driven Rover 8 h.p. car was released in 1904, two years after his death.
1883 The Coventry Sewing Machine Co. was listed to be struck off the register of companies.
In 1885 Starley's nephew, John Starley, designed and manufactured the Rover, regarded as the first successful safety bicycle and the prototype of all modern bicycles.
1896. Prospectus issued for the launch of a new company Swift Cycle Co. to take over the Coventry Machinists Co.
Directors: Randolph Churchill (Chairman), Major Walter H. Seagreave, Charles Wisdom Hely, M.P., Harvey Du Cros, (Junior), Alfred Du Cros (of the Coventry Machinists Co) and Richard Lee Philpot (MD of Coventry Machinists Co). W. Radford was works manager. The company was one of those promoted by E. T. Hooley.
sources:
As reproduction of Historical artifacts, this works may contain errors of spelling and/or missing words and/or missing pages, poor pictures, etc.