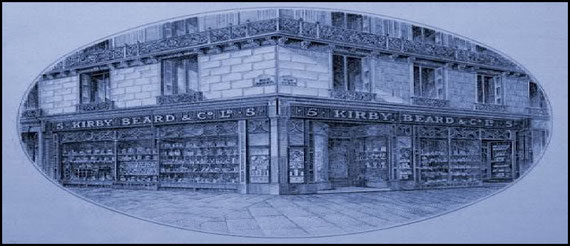 The Kirby, Beard & Co.  has its origins in Gloucester when in 1743 a William Cowcher (1713-83) set up as a pin maker. William Cowcher was an important figure in the City, becoming an Alderman. He has an impressive memorial in the South Aisle of St Nicholas Church opposite his factory that also records the names and dates of several of his children including Richard Cowcher who succeeded his father in the business. William Cowcher built a fine town house next door  to his factory that later became the company offices.
In 1803 Richard Cowcher established the partnership with Robert Kirby. Robert Kirby probably brought vital capital to the business and looked after the London end of the trade. He was well connected and became a Sheriff of London in 1816. The Gloucester pin makers all maintained London warehouses. These were situated near London Bridge in the City and were where the majority of the production was traded.
In 1805 Richard Cowcher  died aged only 39.
In 1810  George Beard joined the business. Beard had started as an apprentice and worked his way up the management ladder, not uncommon at the time. The document tells us that he was instrumental in introducing machinery to produce these delicate metal items which we now take for granted. At the time, all the work was done by hand with a different workman responsible for each step of the process.
In 1815 William Tovey  joined the company. George Beard succeeded the Cowchers as pin maker and William Tovey  worked primarily as the regional or country salesman.
In 1818 the company purchased the rights to an automatic pin machine designed, the year before (1817), by an American, Seth Hunt. They employed another American, Lemuel Wright, to build and develop the Seth Hunt machine, but with limited success.
In 1823 the company was trading under the name of Cowcher, Kirby & Beard with premises in Gloucestershire, Reading and London.
In 1823 William Tovey  died . He was a huge man weighing 23 stone. The names of Tovey and Cowcher were later dropped.
By  1824  Wright  left the company and patented his own successful machine, which he then licensed to other companies including Daniel Foot Tayler of Lightpill.
In 1833, Beard's son, also named George, became an apprentice to the firm. It was around that time that the company began using a steam engine and machines for making pins and needles. Their steam engine could draw and point the wire. Soon afterward, they were able to make pinheads direct from the wire. The delicate machines could produce unfinished pins at the rate of 180 per minute. Further processes were applied to achieve a finished product.
In 1840 the name of Kirby, Beard & Co. was adopted. The company  was the most important pin firm in Gloucester and lasted the longest.
In 1843 from a newspaper : Failure to obtain an Injunction to restrain the Manufacture of Kirby's    ne plus ultra pins. A copy of Notice served on Messrs. Kirby, Beard & Co., dated the 31 st of December 1840.
In December 1848, Kirby, Beard & Co.,  pinmakers of Gloucester took a 24 years lease of a house and barn on the Chilton Road. They had also been needle merchants at 46 Cannon Street, London, buying the bulk of their needles from Emanuel Shrimpton. These they had packeted with the slogan "ne plus ultra".
In 1849 the needle factory at Long Crendon is opened.
The 1851 Census records George Beard aged 34, son of the first George Beard, as a pin-maker employing 132 hands. In its latter days at Gloucester, the firm's premises included the present numbers. 99, 101, 103 and 105 Westgate Street - the offices being in number 105. Clearly in 1851 this was still a substantial business.
In 1851 the catalogue of  the Great Exhibition , shows the following entry:
Kirby, Beard & Co depot Cannon Street, City.         Manufacturers
Pins the head and shaft being all in one piece. Manufactured in Gloucester
Needles, having pierced eyes, also fish hooks, suitable for home or abroad, for river or sea fishing. Manufactured at Crendon, Buckinghamshire.

The factory had expanded as a result of the Exhibition. An L-shaped addition was built for a scouring shed; the pointing and other processes were done in the stone barn attached to the house. In the upstairs rooms were the counting house and packeting of needles and it was hoped to employ 200 workers.
In 1853 the Kirby , Beard & Co. moved from Gloucester to open a new factory, the Ravenshurst Work,  in Birmingham with their main office at 106 Newhall Street. The company  was selling its wares in Paris.                                    
30 years later George Beard is living in a substantial house in Solihull, Hillfield Hall, with six servants including a butler.
Sadly, at this time, competition was so great in the needle and pin trade that companies began to fail. Many of the Long Crendon workers moved to Redditch in the belief that to be at the hub of the trade would be their salvation.
In 1853  William Beard, of the firm of Kirby, Beard & Co., recorded a British Patent (GB 973) for improvements in needles and in the manufacture of the same.
In 1855 the company was exhibiting at the Paris Universal Exhibition.
The 1861 Census showed that Kirby, Beard & Co.'s factory was only employing 53 workers.
In 1862 they finally closed down, departing for Redditch and taking with them two-thirds of their work people. They set up at Parkwood Mills in Ipsley Street but they failed to compete in the needle trade and were forced to buy in from Milwards and resell in their own wrappers. They were more successful with their haberdashery business, particularly with their needle cases and the famous Kirbigrip. It is said that they closed down owing to the high cost of coal which had to be brought from Oxford by wagon.                                                       They expanded into hairpin making  them one of the UK's largest hairpin makers. They used their own specialist machines to turn out ten tons about 20,400,000 hairpins  a week.
In 1878, the firm took part in the Paris Universal Exposition and listed their business addresses  in addition to their Birmingham and Redditch ones  as 18 Cannon Street, London, and 5 Rue Auber in Paris.

In 1883 Gold Medal at Amsterdam Exhibition.

In 1885 The Antwerp International Exhibition  (Belgium).
Messrs. Kirby, Beard & Co., of London, exhibit a large quantities and varieties of pins, needles and hairpins.
A collection of letters from the late 1890s between two well-bred New England ladies Amy Heard Gray and Helen Maxima Heard reveals that Kirby Beard pins were also popular in the United States. Mrs Heard's husband was a diplomat in Korea at the time and she missed many of the items she was able to purchase in America. In a letter dated December 17, 1891, Helen wrote to Amy asking for a small box of Kirby & Beard stainless steel pins. Among the footnotes to the letters is one which says Kirby, Beard, & Co. was a specialty shop at 5 rue Auber in Paris, presumably with a branch in Boston. Failing that, there must have been a distributor or agent , possibly in New York , who was able to get the merchandise into Boston's better shops.
1907 From The Drapers Record November 9th 1907:
In addition to pins, Messrs, Kirby, Beard & Co. manufacture hairpins of all sorts and sizes, while at their establishment at Redditch they produce needles.
The firm have depots in London and Paris and an agency in New York, to aid in the distribution of the goods, as well as agents in various parts of the world.
In 1929, their Parkwood Mills factory was sold to Milwards. However, the Kirby, Beard & Co. name continued to be used until 1970.  
Unfortunately the Birmingham factory and their London offices were destroyed by enemy action during WWII and any documentation that may have existed of their Gloucester origins was lost. Also destroyed was a very early pin machine brought from the Gloucester factory. It is believed that around 30 machines were moved from Gloucester when the firm relocated in 1853.
The story of the partners and of the relationships, marital, personal and business, between Gloucester's pin makers in the first half of the 19th century is not yet well researched. In this context the Gutch deposit at Worcester County Records Office has huge potential. The Gutch archive contains information about the smaller Gloucester pin making concern of Hall and English and has many references to Kirby, Beard and Co. with whom they had familial ties and maintained a price association.
Sir Alfred St Valery Tebbitt (1870 - 30 March 1941) was described in his obituary in The Times as "a prominent member of the British Colony in Paris". He was managing director of Kirby, Beard & Co. and British Chamber of Commerce, Paris and of the Hertford British Hospital, Paris. 
PATENTS
-----------------------------------------------------------------
GB 973-1853                           William Beard
Needles
of the finn of Kirby, Beard and Company, of Cannon Street, in the City of London, Pin & Needle Manufacturer, for an invention for improvements in needles and in the manufacture of the same. Provisional protection only.
April 22, 1853
-----------------------------------------------------------------
GB 1.495-1854         George Beard & William Beard
Needles
both of Cannon Street, in the city of London, Pin & Needle Manufacturers, for an invention for " An improved needle depositer". Letters Patent sealed.
July 7, 1854
-----------------------------------------------------------------
Sources:
The History of Knitting Pin Gauges
The Literary Gazette: A Weekly Journal of Literature, Science, and the Fine Arts
GLOUCESTER FOLK MUSEUM AND THE MECHANISATION OF THE PIN INDUSTRY by Nigel Cox