Reynolds' American Patents
*********************************************************
MAY 1850
*********************************************************
US 7.369                               0.  L.  Reynolds 
Chain-stitch
Improvements in Sewing Machines. What I claim as new in my invention and desire to secure by letters patent, is Firstly. The adaptation of the bearded needle (a) such as is used in knitting or stocking frames, in combination with the manner of closing the beard or hook thereof previous to drawing it back with the thread, to prevent the point tearing the cloth, by passing it through the hole (v), in the plate (t) in the manner substantially as herein described. Secondly. The combination of the spring thread leader or guide V, the arched spring (k) and the friction roller (j) for the purpose of leading the thread under the point of the beard of the needle.

( O. L. Reynolds of Dover, county of Strafford and State of New Hampshire )
May 14, 1850
*********************************************************
MARCH 1858
*********************************************************
US 19.793                               O. L. Reynolds
Improvement in Sewing Machines
( O. L. Reynolds of Dover, county of Strafford and State of New Hampshire )
March 30, 1858
*********************************************************
SEPTEMBER 1859
*********************************************************
RE 829           Joseph W. Bartlett assignee of  O. L. Reynolds  
Improvements in Sewing Machines
September 27, 1859
*********************************************************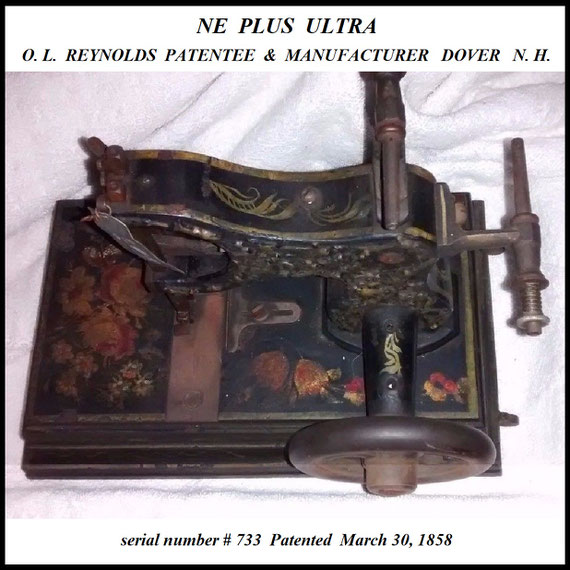 Ne Plus Ultra sewing machine, American patent US 16.566 issued in February 3, 1857 to Joshua Grey of Boston, Massachusetts. This information is found on the baster plate along with the name John Gault (Bostonian sewing machine merchant).
Carter Bays has two later versions of this type sewing machine pictured in his book on early American sewing machines, but fails to identify the patentee or date on this earlier machine. Or give much other useful information about it.
In Grace Coopers book on early sewing machines there is a bit more info, but again speaks about later sewing machines and mis-identifies the patent holder of the early machine she pictures as having been patented by O. L. Reynolds.  This is  because her machine is missing the brass baster plate that this sewing machine has with the correct patent info with Grey's name and the date on it in front of the needle.  The sewing machine shown in her book is serial # 26 and has the same body casting as this one. She gives information from a later machine with serial #110 she had access to that carries a later March 30th 1858 patent date. The 1858 patent shows machines with a different style base, similar to those machines pictured in Bays' book.  
This machine is serial #21 and has the earlier and correct patent info on the baster plate that the sewing machine Cooper pictures is missing. The patentees name, Grey and 1857 date are earlier and different from any of the info she gives. Mr. Grey, the patent holder of this machine, is not mentioned in either Bays or Cooper's book.
I assume Joshua Grey ran out of money ( or whatever ) and sold the rights to O. L. Reynolds, who re-submitted a later machine for a patent with some small change or "improvement".
That, I  believe, makes this the earliest known and one of but a handful of this rare patented sewing machine that has ever turned up. The machine has almost no finish on it, but is not heavily rusted or pitted. It actually looks quite nice. One small piece of one paw foot has some damage as shown in the pics. The main arm driving the needle bar in the rear has a proper and period looking repair along the length of that. The rear of the machine is open by design with the inner workings exposed and is correct as shown. It has a great action and sound to it as it click clacks away when the crank is turned. The thread catch and looper mechanism below the base are all present and operate as they should. It is a very simple but elegant design solution to picking up and sewing a chain stitch. The spool pin is missing and every machine I have seen has a different style one, so replacing that will be an easy fix.
Ne Plus Ultra of about 1867. Another of the interesting hand-turned chainstitch machines of the late 1850s and 1860s was patented by O.L. Reynolds. The baster plates and the handle on the wheel are missing on this machine, but an interesting shield and draped-flag pattern is painted on the base.
Another machine of this type has the following inscription stamped on the baster plate:
"Ne Plus Ultra, Patent Applied For, 174, O. L. Reynolds, Patentee & Manufacturer, Dover N.H."
Reynold's patent model, March 30, 1858, bears the serial number # 110, indicating that the machine illustrated here, which bears the serial number # 26, was manufactured before the patent was obtained.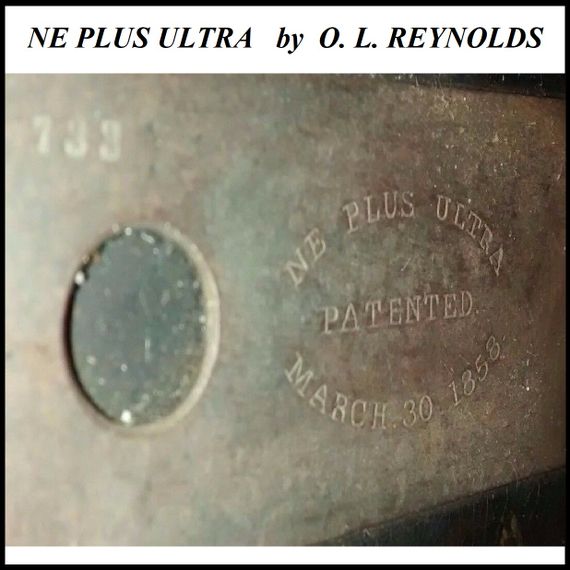 Editor's note:  
John Gault
In 1862, Bostonian sewing machine merchant John Gault of the firm  Kirkpatrick & Gault in New York City, invented and patented a small brass case with a transparent isinglass (mica) cover that kept a single stamp clean and secure, yet visible.
Coins and Currency: An Historical Encyclopedia
by Mary Ellen Snodgrass
John Gault
In the USA, John Gault, a Boston sewing machine salesman, proposed the encasement of stamps in circular metal discs made of brass with a mica front, into which a postage stamp could be installed. It received a patent in August of 1862 for "Design for Encasing Government Stamps."
His firm, Scovill & Co., then issued the encased stamps in various denominations using the 1861 issue - the 1, 3, 5, 10, 12, 24, 30 and 90-cent stamps (Scott #63-72). Except for the values of 5 and 10 cents, most denominations did not lend themselves well as coins and the government did not approve of private money.
Gault sold this "stamp money" to merchants at small premium to meet the cost of production. Advertisements for products and services were stamped on back of the metal casing. "Ayer's Pills" are among the most frequent advertisements on U.S. encased postage, but businesses from hatters to hotels to dry goods merchants made use of the opportunity. Besides the coin-shaped encased postage, there were also rectangular shapes that contain two or more stamps. These strips had a metal backing with a mica covering, usually encasing three 3c stamps, for a total of 9 cents with open ends. Stamps could slide in or out.
Used as currency, Gault's encased stamps became popular for a few months only, as the post office department refused to sell Mr. Gault the necessary stamps. They felt he was competing with their postage currency notes. This greatly limited Gault's enterprises by late 1862 and brought them to an end the following year. Of the approximately 750,000 pieces sold, only 3.500-7.000 are believed to have survived. All are very scarce today as they were used for such a short time.  
Postage Stamps as Coins
by Dr. Satyendra K. Agrawal